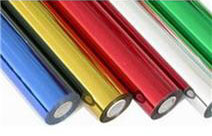 Hot-stamping foil "STARFOIL" (China) is used for a wide range of applications in the production of printed materials, cardboard packaging and different plastic materials.
Metalized foil can be of several types, each of them having distinctive features.
The choice of the foil depends on the type of substrate, the material's resistance to high temperature, the type of image you want to emboss, and the type of equipment.
The following information will help you to choose the right foil, suitable to your applications.